Bee course details:
Our bee course is specifically targetted for beginners wanting to start beekeeping. Bee info is usually quite a niche subject matter. Keeping bees is usually a family affair and any bee info is passed down from father to son so to speak. If the son decides not to continue keeping bees then the bee info and knowledge disappears. That's where we come in.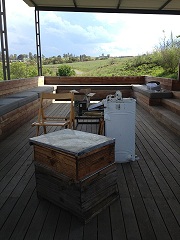 We've developed an easy bee keeping course for anyone to learn about beekeeping and actually experience a LIVE Practical session with a working bee hive for at least an hour. You will spend at least 90 minutes at one of our apiary sites where we keep about 3 beehives. How to keep bees is an art learnt from father to son in Europe. You can start bee keeping anytime.

Copies of the blue book or beekeeping in South Africa bee book are available at the bee course for R360 per copy. This act as as a reference guide for you post the bee course. It is the bible of beekeeping.
Find out more about bee courses ... email us or call on 083 308 0042. It costs R850 per person for a full day training including lunch and 90 min working with live bee colonies in our Apiary!
Bee course demo video:
EASY BUZZING BEE COURSE OUTLINE
Overview of the industry in South Africa.
Associations
Legislation and
Registration
Biology of the Honeybee
Life History
Activities
Reproduction etc.
Basic Beekeeping Equipment
Protective Clothing,
tools,
smokers etc.
(special equipment)
Hives
Treatment of and
Assembly of hive components
Beginning Beekeeping
First considerations
Otaining bees
Safety etc.
Management
General:
Apiary site; Bee food sources; Hive inspection; Bee diseases

Specialised:
Swarm Control, Feeding bees etc.
Honey
Harvesting honey
Honey Extraction
Honey Storage
Packaging
Beeswax and other products of the hive:
Beeswax Sources
Beeswax processing
Beeswax use
Practical LIVE Demonstration:
Opening a hive
Finding the queen (time permitting)
Bee hive Demo
How to handle frames
Maintenance and inspection of live hive
Learners each get to handle frames and bees
See the difference between drone comb, worker cells & honeycomb
Register Now by clicking the link below:
Call to make a booking on 012 771 4288 | 083 308 0042 NOW.

Photos are the property of BeeHives.co.za or third parties and are not for use without written permission.