Honey Bee Articles
Perfect Honey Storage - the honeycomb
Honey bees have been harvesting nectar and pollen for millenia. The bee design has stood the test of time. Bees keep their families, their young and their queen in specially designed cells. One of these cells in a massive collection is referred to as the honeycomb. It's where the perfect honey storage unit is found.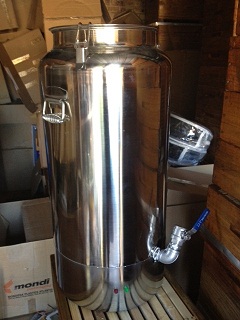 Honey comb works wonders for the bees but once we beekeepers harvest honey it needs to be stored somewhere!
We have now got Stainless Steel
Honey Heating tanks
- honey tanks that also have heating elements! Why is this so important? Under natural circumstances, raw honey which is not heat treated will granulise and crystalise within a certain timeframe. It does so because it is the only food source on the planet that can preserve itself! Egyptians dating back to before the Pharoahs used honey to embalm the dead, preserve food and treat wounds! There are records of
crystallised honey
found inside tombs that is still edible after 1000s of years!
Not only are our
Stainless Steel Settling tanks
great for storing harvested honey they are also 304 Stainless steel! That means they are fod grade and comply with EU regulations when dealing with food stuffs. It also means that you can use the
honey tank
, which holds 110Kg of a load, to filter the honey and bottle it. If the honey ever starts crystalising you have the option of switching on the thermostat and liquifying the honey again by using a temperature around 36 degrees. This doesn't damage the honey like flash heating treatment does when it is burnt to a 65 degrees for a few seconds and cooled off quickly to stop it from naturally crystallising.
The
bees keep
the honey inside the hive and general temperatures to a steady 37/38 degrees. This should allow for reheating the honey to 35 degrees and limiting any damage to active enzymes it contains and will contribute to it crystallising. Heating Honey tank PRICE:: R9300 excl. P+P. Also called a
honey settling tank
and
honey heating tank
!
Find out more about bee books now

Photos are the property of BeeHives.co.za or third parties and are not for use without written permission.